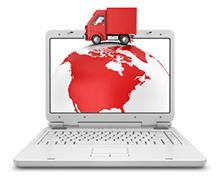 Take advantage of great online prices and variety in US stores. Use our services to ship your online purchases to you in your country. You can also trust Polonez with purchasing the goods for you in the form of buyout which is a great alternative for online shoppers who are able to pay for the goods upon receipt in Poland.
If you want us to buy the goods in any US store, please contact customer support number with your request and email link for buyout of items you want to purchase, Polonez will handle the rest FOR YOU!
Shipping and tracking of all your parcels is now available on our website. Payment options are also available.
Please use our Calculator, to easily calculate package cost and any additional fees that might apply.
Use the following steps to assure your online purchases are delivered to your door:
Find products you want to purchase on USA websites like Amazon and Ebay.
Then order items online and use our warehouse address as your own:
First and Last Name - John Brown (please, provide your name and surname),
Company Name - Polonez America,
Address - 600 Markley St,
City - Port Reading,
State - NJ or New Jersey,
Zip Code - 07064
Phone number - (908) 862 1700
After ordering the items, log in to our website and enter the Tracking Number which you will receive from the seller/store. To do this, click on "Add New Order", enter the full Tracking Number (UPS, USPS, FedEx) and the ordered item / items,
Note: If the order is divided into several packages, each Tracking Number should be entered into our system separately. We will send you notification via email after each of the shipments has been delivered to our Warehouse.
You will be able to see all shipments that have arrived to our warehouse under the "Your Accepted Orders" tab,
You can then order the shipment of one or several shipments that we already have
The weight that we checked will be provided for each parcel awaiting shipment
You decide which shipments you want to group together and which ones to send separately
Our system is ready to accept multiple packages and to group them together for a nominal fee. The additional fees are listed on the bottom of the Calculator page.
You order the shipment simply by marking which items you want to ship and then clicking "Send",
Complete the required fields and press "Show summary". You will find your order details on the next page,
Once you have checked everything is correct, confirm by clicking on "Add Package",
For Ocean packages, the minimum weight for which you are charged is 15 lbs, and for Air parcels is 5 lbs
Extra overweight fees will be added For Ocean packages over 60 lbs
Shipping costs are calculated according to the actual or dimensional weight depending on which weight is greater. If the package is light and large, the shipping costs will be calculated according to the dimensional weight
We would like to remind everyone that online shopping parcels are custom duty exempt with value up to 150 Euro, and Polish VAT exempt up to 22 Euro.
Sign in to open a page where you Add New Order quickly and easily directly from our website
If you do not have an account yet, sign up.
PS.: Parcel will not be delivered to the Recipient if not paid in full.