Commercial LCL and FCL Shipping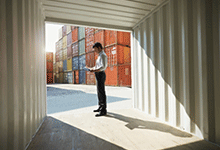 Polonez rents numerous shipping containers and ships them to Poland and other countries of Europe. We offer a convenient service of delivering the rented shipping container to any address in the USA, allowing loading time and deliver it to any address in Poland or a country in Eastern Europe (so called "door to door" service)
1. FCL Shipping
Size: 20 or 40 feet shipping container.
The sender should ensure that the shipped contents are provided sufficient protection.
The cost of shipping is calculated for each client individually and depends on the size of the shipping container, the distance between the sender's and recipient's addresses and the loading time. The clients can choose a way the costs are calculated: a) during week days we deliver the shipping container and allow two hours for loading; b) we deliver the shipping container and allow two days/weekend for loading.
Customs and port fees in the USA are included in the shipping costs charged by Polonez. The sender is responsible for Customs and port fees in the country of destination. The sender is also responsible for unloading the shipping container at the place of destination.
2. LCL Shipping
If the contents you wish to ship do not fill the whole shipping container, we offer an alternate option of partial rentals. In partial rentals client pays only for the taken space in the shipping container. You can send the contents from our headquarters in Port Reading, NJ or any of our locations. With additional costs, we also offer a pick-up from a sender's address. Polonez can deliver the shipping container to recipient's address or to our warehouse in Częstochowa, Poland. Please make sure you contact our headquarter office by calling 908-862-1700
413-732-3899 to receive detailed information and shipping estimate.