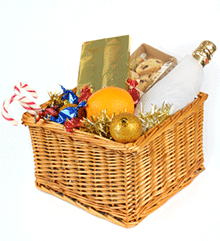 Food Parcels offered by Polonez serves as gift baskets and are a perfect gift for your friends and family in Poland for any occasion.
We offer a large assortment of gourmet food and gift baskets. Our clients can choose: Standard, Special Occasions or Kids Parcels, as well as Fruit Baskets or ask us to deliver fresh flowers.
For small occasions, Polonez also offers single item gifts delivery.
LOG IN to order one of our Food & Gift Parcel
If you do not have account, please register.
| Code | Product | Weight/Amount | Price |
| --- | --- | --- | --- |
| Code | Product | Weight/Amount | Price |
| --- | --- | --- | --- |
| Code | Product | Weight/Amount | Price |
| --- | --- | --- | --- |
| Code | Product | Weight/Amount | Price |
| --- | --- | --- | --- |
| Code | Product | Weight/Amount | Price |
| --- | --- | --- | --- |